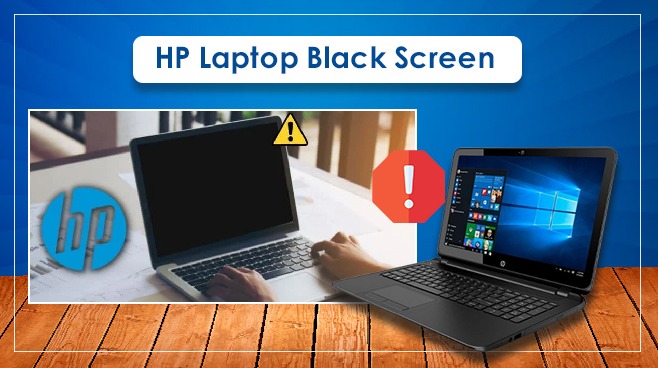 Why HP Laptop Black Screen Appears? How to Fix?
Your HP laptop screen may turn black due to hardware glitches and software installation errors. Apart from this, other factors such as missing or outdated drivers also contribute to this problem. To help you fix the "HP laptop black screen" issue, here in this blog, we have provided you with simple & easy to follow troubleshooting tips using which you will soon be able to fix the laptop black screen error.
When the HP screen turns black, users cannot operate their device well and due to this problem, other apps or software also don't function appropriately.
So, if you are experiencing the same situation, explore our techniques below. How To Fix HP Laptop Black Screen?
If you are wondering "Why is my hp laptop screen black", it is simply because of software and hardware technicalities. To fix the issue with ease, follow the below-mentioned tips.
1. Update Graphics Drivers 
If HP laptop graphics drivers are not updated, your computer will not be able to represent data, images, & files in a proper format. So, make sure you do not forget to update graphics drivers.
After updating drivers to the latest version, the pc will show everything clearly and the black screen issue will also get rectified.
Moreover, restart your HP laptop after the drivers are updated. This will prepare your drivers to work with the hardware parts of the laptop properly.
To download the graphics drivers for your HP laptop device, visit HP's official site and select the latest updates according to your system's requirements.
2. Hard Reset HP Laptop
To fix your HP laptop's black screen on startup, you can hard reset your HP device to resolve both hardware & software faults.
Hard reset is the process of restoring the computer or laptop to the previous settings with which it first left the factory. Or you can say the first settings of your laptop when you buy it.
Once you hard reset your HP laptop, all the files, apps, or data added or installed by you will be removed from the system. Consequently, your laptop's speed and performance will be boosted and this will fix various laptop glitches.
First, power off your HP laptop.
Next, remove all output or peripherals devices such as external hard disks, pen drives, etc.
Also, remove power cables, batteries, and internet hard drives so that no current is left in your device.
Now, keep the "Power" button pressed for about 1 min. After a while, release the power button.
Thereafter, re-insert the battery into your laptop and plugin charger.
Again, boot the HP laptop, and after this, the "HP laptop screen turns black" will be fixed.
In addition, follow other methods if the black screen of the HP laptop keeps occurring.
3. Recheck Your Brightness Settings 
If your HP laptop causing a black screen after you log in to your device, make sure you check the brightness settings first. The HP laptop screen will appear black if you have set the brightness to the minimum level. So, increase the brightness level of your HP laptop a bit and then, check your device.
Additionally, use the function keys available on your keyboard to adjust the brightness of your laptop. After adjusting the brightness, you will definitely see a change in the display of your laptop screen.
4. Turn Off "Fast Startup"
If you have enabled the "Fast Startup" option on your HP device, your laptop will start the faster way after being shut down. As a result, it will cause some screen appearance issues. Therefore, disable this option and check the laptop's screen again. After disabling the feature, the HP black screen problem will also be fixed possibly.
Now, let's check a few steps below through which, you can disable the feature.
First, go to the "Control Panel".
Now, choose "Power Options" and click "Choose what the power button does".
After this, click "Change settings that are currently unavailable".
Then, disable the "Turn On Fast Startup" option simply.
Once you turn off the feature, simply, click "Ok" to save changes.
Hopefully, your "HP laptop black screen" will be resolved.
Lastly, restart your HP laptop after making alterations in the settings.
5. Disable App Readiness Option
The "App Readiness" option prepares apps or software for first-time use and because of this, a slow boot problem appears.
Due to the slow boot process, the PC will surely not be able to load the display or screen of your laptop properly.
Hence, disable the feature as quickly as possible so that the black screen issue can get fixed.
Enter "services" in the search bar to open the services.
Next, right-click on the "App Readiness" option to go to the "Properties"
Now, click the "General"
Then, choose "Startup Type" as "Manual" from the dropdown menu.
Click "Apply" and then "Ok" to save the changes.
Also, restart your PC when changes are saved.
6. Re-install RAM
It is unquestionably that you must have carried your HP laptop from one place to another several times. Due to this moving process, the RAM must have been pushed or shaken. When RAM is slightly removed from its slots, display and various technical issues will show up obviously.
Therefore, you will have to reseat the RAM carefully. If you don't have any experience in removing and installing the RAM, you can take assistance from a hardware expert or someone you believe will reseat the RAM with full care.
Furthermore, remove RAM cards one by one or one at a time if you have got 2 RAM cards installed on your HP laptop. This way you can check which RAM card has technical faults in it and causes a black screen.
Take 1 RAM card out of your laptop, now, restart your PC. if this time the display error is gone and your desktop screen is appearing clearly, it indicates the problems with the RAM card you took out.
7. Use HP Emergency BIOS Recovery
Obviously, you will encounter HP black screen problem if your HP laptop is updated with the new version of BIOS. However, you can use the HP Emergency BIOS Recovery feature through which you can restore working BIOS.
Check the steps mentioned below:-
First, shut down your laptop and connect it to the power adaptor.
Then, press the Win + B
Now, press the "Power" button while keeping both Win + B keys
After a few seconds, released the power button and Win + B keys.
Thereafter, you will revert to the working BIOS version.
At last, you can restart your device.
Conclusion
If your HP laptop screen keeps showing black & you are unable to figure it out on your own, you can get help from HP Support. Simply, send your queries to us and we will reach you with solutions.
Frequently Asked Questions
How do I fix a black screen on my HP laptop?
Go through a few troubleshooting steps and see whether it helps you or not:
Update your Graphics Driver 
Turn Off Hibernation
Adjust the Brightness
Connect to an external device
Perform a hard reset
Why is my HP laptop turning on but the screen is black?
To resolve the issue, here are some of the solutions that helped you with this problem:
Update your graphics driver
Disable fast startup
Hard reset your laptop
Undo recent changes 
Reboot the explorer.exe process
Why is my laptop turning on but the screen is black?
A corrupted system file is the main reason for this issue as it prevents the OS from loading. To resolve it, you can reboot Windows to see whether the problem is solved or not. If the issue still persists then clear your hard drive and then reinstall Windows.
How do I restart my HP when the screen is black?
Press the power button for 10 seconds to turn off the PC. For at least 30 seconds, from the system remove the power adapter and its power source. After some time, plug it back in, and then restart HP. 
Why does my HP laptop turn on but the screen is black?
First of all, deactivate all external devices and cables that are connected to your PC. Ensure that from the power the PC is disconnected, once done remove the battery. Moreover, for at least 15 seconds, press and hold the power button. After that, reconnect the power and then reboot your system.