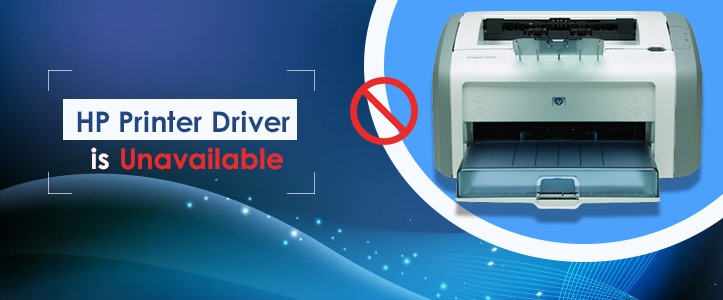 How To Resolve "HP Printer Driver Is Unavailable"?
When your computer system fails to recognize your HP printer, the occurrence of the error "HP Printer Driver is unavailable" becomes absolute. Moreover, when the printer is faulty or not updated to the latest version, it faces difficulty in communicating with your PC. As a result, the "Driver unavailable" error shows up. If this error has obstructed your printing task, no need to worry about it as the guide mentioned below will teach you to deal with this situation quickly.
Before you read our error-solving guide, ensure to have a look at some valid causes of this problem.
What Brings "HP Printer Driver is unavailable"?
If the "HP Printer Driver is unavailable window 10" error is showing on your PC, it is because of a corrupt or missing printer driver. Your printer may lose connection with your PC when they are outdated or have some issues. Hence, ensure to update or reinstall the drivers so that the "printer unavailable" problem can be resolved. Apart from this, printer drivers installed on your PC may not be compatible with the current version of the PC.
Fix "HP Printer Driver Is Unavailable" With Easy Steps
Now, let's just explore our troubleshooting tips mentioned below in this blog.
Fix 1. Uninstalling HP Printer Drivers
This is one of the most common troubleshooting tips you should follow when your HP printer is showing a "Driver Unavailable" issue. Apart from this, uninstalling and reinstalling the drivers will also resolve various other printer errors such as offline, etc. Here, you can see a simple step-by-step procedure to uninstall the drivers appropriately.
If you do not follow the correct procedure to uninstall the printer drivers so, ensure to follow the process validly.
Initially, open the "Run" dialog box by pressing the Windows + r keys.
In the next step, type "Control Panel" in the text field of "Run" and hit enter.
Now, click on "Device & Printers".
After clicking the above option, you will see the list of all available printers.
Choose your HP Printer, right-click on it, and select the "Remove Device"
Once you click the "Remove Device" option, your printer will be removed from your PC.
Thereafter, again open "Run".
Then, type "devmgmt.msc" in the run box.
Now, select the "Print Queue"
Later, right-click on your printer and choose " Uninstall Device"
Again, you will have to press win+r, type "appwiz.cpl", and hit "enter".
After this, all installed applications on your PC will be shown on your screen.
Here, you need to just right-click on your printer application and choose "Uninstall".
After you finish completing the above-mentioned steps, disconnect the printer from your PC if you are using wireless connectivity.
Moreover, shut down your PC, printer, and your router.
After this, remove all cables and wires from your PC and HP printer.
Now, wait for at least a few minutes and plug in back all the cables in a proper manner.
Again, power on both the HP printer and the PC
Then, go to the "Control Panel" and right-click on your printing device and choose the "Use as default" option and proceed further.
Fix 2 – Reinstalling The Latest Printer Drivers
To fix "Driver is unavailable window 10" here, you can see the manual procedure to reinstall the latest HP printer drivers.
In the beginning, open "Run" type. "devmgmt.msc" and click "OK" to proceed further.
This will open the "Device Manager" of your system.
After that, find the "Print Queues" option and right-click on "Printer hardware" to choose the "Update Drivers" option.
Next, a window will appear on your screen asking your choice regarding how you want to install the drivers.
Afterward, you will have to choose "Browse my computer for driver software".
Wait and let the procedure complete.
Then, find the downloaded file of your printer driver and run the driver file to install the drivers.
Finally, you can check the printer for proper functioning.
If your printer is working well, visit Microsoft's site and download "wushowhide.diagcab".
Run the executable file of this package and click "Next".
Further, go to the "Hide Updates" option.
Choose "printer update if it is available".
We hope that the above procedure has fixed the "Driver is unavailable hp" issues. However, you can also check the other techniques below if the error is not resolved yet.
Fix 3 – Updating Windows To Fix HP Printer Driver is unavailable
You need to update your Windows 10 to fix the driver is unavailable hp printer issues. Once you update the Windows, your PC will be able to recognize the HP printer well.
First of all, go to the search bar of Windows 10 and simply type "Update" and hit enter.
After that, you will have to select the "Check For Updates" option.
The latest updates will be shown on your desktop screen.
After that, click on the "Install Now" button to install the latest updates on your devices.
Now, windows will start updating automatically.
Restart your PC after the Windows update is finished.
Finally, you can print something to check your printer.
Fix 4 – Run In-built Print Troubleshooter
Get rid of "HP envy driver is unavailable" by running the Windows troubleshooter program.
First, press the Windows key and S key.
Second, type "Troubleshoot Settings" and hit enter.
Third, choose "Additional Troubleshooters".
Now, find the Printer Troubleshooter and choose "Run".
Moreover, select your HP printer and follow the on-screen instructions to troubleshoot issues.
Fix 5 – Fix "Why is My Printer Driver Unavailable" Through Scan Doctor
Last but not least, you can use this HP Print and Scan Doctor tool to diagnose all your printer errors with ease. You need to just download and install software on your device. After that, click on its "Scan" button to scan and fix all printer errors. Visit the official HP site download and install the tool with ease.
End Note
The above-mentioned blog discusses 5 troubleshooting tips that are beneficial to fix "HP Printer Driver is unavailable". Besides this, contact HP Printer Support to get reliable and solution-oriented guidance if you are still unable to fix the "driver not showing" issue.
Frequently Asked Questions
How do I fix HP printer driver unavailable?
There are seven ways that help you to fix the HP printer driver unavailable:
1.   Install New Windows Updates
2.   Run an SFC and DISM Scan
3.   Update Your HP Printer 
4.   Switch to the Generic Printer Driver
5.   Run the Printer Troubleshooter 
6.   Remove and Re-install Drivers for HP Printer 
7. Run the HP print and Scan Doctor App
How do I fix my printer driver that is unavailable?
To fix the printer driver that is unavailable, here are three ways that will help you to do so:
Update your Windows OS 
Reinstall your Printer's Drivers 
Preferred for Plug and Play printers
How do I make my HP printer driver available?
On the Start button, first off right-click and then choose Settings > Bluetooth & devices > Printers & scanners
Now, search for the printer, select it, and then choose the option 'Remove' 
After that, by selecting Add Device, add the printer back  
To find nearby printers wait for a few minutes 
And then select the one that you want
Finally, choose the option Add device.
How do I make my printer driver available?
Go through the below-mentioned tips:
Very first, choose Start, then select Settings > Devices > Printers & scanners 
Next, scroll down and choose the option Print server properties
Now, choose the Drivers tab to see the list of your printer. 
If found then congrats, you're almost done. 
How do I fix the HP printer driver is unavailable for Windows 10?
You can solve this issue just by going through the below-mentioned easy steps:
Update Windows 10
Install your printer driver manually
Reconnect the printer device 
Install the generic printer driver 
Update your printer driver via Windows 10. 
Why does my HP printer keep saying the driver is unavailable?
Typically, this type of error shows that your printer is corrupt, missing, or not accepted by the PC. To solve this issue, just you need to uninstall the driver and install the latest printer driver. Basically, this can be done in two ways: one is done automatically and another is done manually.